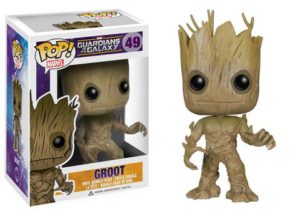 For the first time in my life, nerd culture has become mainstream. In many ways that is so awesome! It's never been easier to be a fan girl. With that mainstream popularity comes merchandizing like we've never seen before. There are entire stores these days that sell nothing but fandom merch. Even big box stores like Target are filled with it! I'm not much of a chotchky sort of person. I hate clutter. But if I'm going to make an exception, it will be for a Pop! Funko Vinyl.
They are just about everywhere and I love them. That simple squarish face with those big eyes… it's impossible to pass them up! My absolute favorite? Groot. I've got a total  crush on Groot, not gonna lie, and I've got two of these awesome goodies.
The Company and How it Got Started
Funko, creator of those adorable, huge-headed figures, was founded by Mike Becker in 1998. He originally wanted the it to be a small project with the goal of bringing back nostalgic, low-tech toys to help combat a world obsessed with high-tech doobobs. The very first Funko bobblehead toy was the Big Boy bobblehead because Becker was in the market for a vintage coin bank depicting the mascot, but couldn't find one for a reasonable price. He decided to produce his own replica by outsourcing the construction to China. The company, creating bobbleheads, banks, and hand puppets, began from this one little figure. (Side note: Remember Big Boy? It turns out, they're still around. I had no idea!)
Becker sold the company in 2005 to Brian Mariotti. Mariotti has more or less kept the dream alive, but they've increased the scope of the products ten-fold. Funko LLC has around 180 unique licenses from movies, TV, comics, video games, sports, and other cultural icons. They have licensing deals with all the biggest players:
Marvel     DC Comics     Lucas Film     Sony Pictures     Paramount     DreamWorks     Hasbro
Warner Bros     Disney     HBO     Peanuts     Ubisoft     2K Games     Bethesda Games     and more
Mariotti says it used to be hard getting companies to agree to sign on with them. But now, brands are banging down their doors to get their characters as a Pop!  The vinyl dolls are still their biggest seller,  the company made about $40 million in 2013. In 2016 that number was $425 million. Pretty impressive if I do say so myself.
The Products
The vinyl bobblehead dolls we've all come to love and recognize haven't changed much over the years. The first few characters included Betty Boop, Cap'n Crunch, and The Cat in the Hat. Over the years, the dolls took on human characters, exaggerating the heads and eyes. They are 3.75 inches tall with a square head and rounded edges.
Now, you can find a Pop! Vinyl Doll of almost any character you can imagine, even minor characters. The dolls aren't limited to fictional characters either. You can find Pop! Vinyl culture figures like Johnny Rotten from the Sex Pistols and Tupac Pop-ified, too!
The vinyl dolls have branched out to include Mystery Minis, Hiraki, Legacy Collection, Mopeez, and Home & Accessories. The Home & Accessories collection specializes in ceramic mugs, which are basically just glass copies of the heads of popular figures, hollowed out with a handle on one side. Vinyl Sugar was announced at Toy Fair 2015, with offshoot lines including Dorbz, Vinyl Idolz, Vinyl Vixens, and Super Deluxe Vinyls.
From their first introduction at Comic Con in 2010, Pop! Funko Vinyl Dolls have blown up to include almost 3,000 unique pieces and 40 million units. They all have the recognizable Pop! Funko Vinyl style while boasting individual characteristics that make the character recognizable. They're intensely collectable. Selling at only $10, you can build a huge collection quickly. There are also extremely rare, limited edition Pop! Vinyl Dolls. Funko created a Pop! Of JJ Abrams just for Kathleen Kennedy.
"You have to have the huge Walking Dead or Game of Thrones items that everyone wants, but you also need to do Firefly or Dodgeball. There are fans looking specifically for that and we might be the only company offering something to have on their desk," says vice president of creative Ben Butcher. "It's very important that we're not just going for the big home runs." Adds Mariotti: "If it doesn't sell out, that's okay. If everything was bottom line-generated, our line would be boring and probably wouldn't be half as successful." (I had to bold that out. It's rare to find a company of this size that is willing to step out and take on a niche in this day and age.)
Next time you walk into a store that has Pop! Funko Vinyl dolls on display, take a closer look. It's hard to come across a rare one and new reboots, new shows, and new movies mean Funko will never run out of source material. But know that each doll came from the singular idea to create something simple, fun, and cute for the fans.
k.
Additional Info:
Ever Hear of Funko?
Funko on Wikipedia
The Incredible Rise of Funko Pop!