Last night I harvested the last of the corn from the garden. In the mountains, the leaves of the Aspens are taking on a shimmering golden glow. Like it or not, fall is in the air, and that means fire pit season is upon us!
Of course, you can light a fire in any old ring of stone, but why settle for the ho hum when you can have a fantastical fire pit instead? I scoured Pinterest and the interwebs for some of the best, and these were my favorites.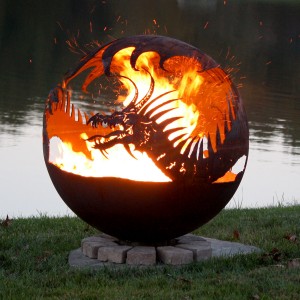 The folks at the Fire Pit Gallery sell this beauty. Seriously, what goes together better than dragons and fire?  This is an original piece of art by Melissa Crisp – each fire pit is hand cut and numbered, and comes with a lifetime warranty.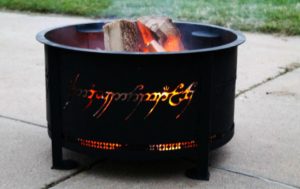 Homecrux.com took the idea of a fire ring to an entirely new level with this gorgeous fantastical fire pit. The One Ring. In your backyard. You can even cook some hot dogs over the top of it, though I'm not sure I'd recommend such a thing. 😉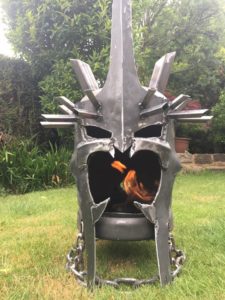 Continuing the Lord of the Rings trend is this Witch Kind of Angmar fire pit by the fine folks over at Burned by Design. I love the rough design of this fantastical fire pit, the heavy seams, the chain base… what a gorgeous pit!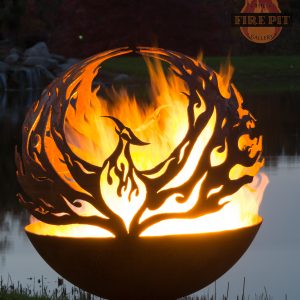 The Fire Pit Gallery does it again with this Phoenix Rising fire pit. I love the look of the flames licking through this Phoenix! Absolutely gorgeous! Much like the dragon above, this is a custom piece of art designed by Melissa Crisp. I adore her work, can you tell?
Do you have a fantasy themed fire pit you love? Share it in the comments!