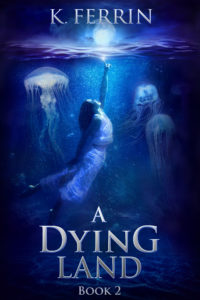 It's hard to believe, that A Dying Land is almost here, and I'm so excited to share the cover and blurb with you today!
A Dying Land is the second book in an epic fantasy/sword and sorcery serial series I'm currently working on. Each book is about 150 pages long, and a new book is released every January and June. It follows the trials and terrors of Ling, a young woman who discovers she's actually a changeling.
She begins her journey in Across the Darkling Sea intent on finding the warlock that cursed her family and convincing him to break the curse. But she soon finds out there is much more going on than she ever could have imagined.
In A Dying Land Ling soon find herself embroiled in a centuries-long war between a species of magical beings called the Mari and the warlocks. She feels her original quest, to break the curse and restore Evelyn's life, slipping from her fingers. How do you choose between saving those you love and saving… everyone else?
Evelyn always believed that warlocks and monsters were nothing more than fairy tales used by tired parents to scare their kids into staying in bed at night. The truth is far more terrifying.
Far from home and, with no one she can trust, Ling finds herself caught in the powerful currents of a centuries-long war that threatens the lives of everyone she holds most dear. As she journeys deep into the Colli Terra on the mythical island of Marique, she finds herself faced with a decision: Should she continue her single-minded quest to break the spell that holds her family in thrall? Or should she succumb to the pull of war and join a battle between two races fighting for their very survival?
I am currently looking to build a list of advanced readers for A Dying Land. If you are interested in getting an advanced eCopy of this book in exchange for an honest review, please email me at k @ kferrin.com.
For more adventures, please check out my currently stand-alone novel Magicless as well!