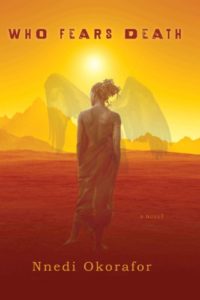 There's nothing new about novels of the post apocalypse. But if you get most of your fantasy to-read list off American or European book lists, books that take place in post apocalyptic Africa may be new indeed. Who Fears Death (this is an affiliate link, see below), by author Nnedi Okorafor, is an award winning novel about a remarkable woman surviving the bleak landscape of a war torn post apocalyptic Africa.
Who Fears Death is more magical realism than full blown fantasy, but regardless, is well worth a read. I loved the folklore the author wove beautifully through the fabric of this story. Creatures and myth's that are new and unusual to most American readers, and fascinating for it.
This book tackles some seriously weighty topics. Rape, genital mutilation, war, violence, feminism… all woven expertly through the pages of this book. It's serious stuff, but don't let that sway you away from this gem. Who Fears Death is well worth the read.
My only negative is I feel the middle does bog down a bit. There is a section of the book that comes late in the middle portion of the story that feels a little out of sorts, as if it were tacked on almost as an after thought, and didn't really form organically out of the rest of the story. That said, it's relatively short, and the rest of the book more than makes up for this little imperfection. Or, at least, what feels to me as an imperfection.
Overall, I highly recommend this book. The world, the magical systems, the folklore are all fascinating from the first page to the last. And I loved how the author wove real life struggles into the story. I definitely, give Who Fears Death a solid thumbs up.
Yes, this is an Amazon affiliate link! If you make a purchase using this link Amazon pays a bit into my pie fund, and that makes you awesome (and me a little pudgy!).
k