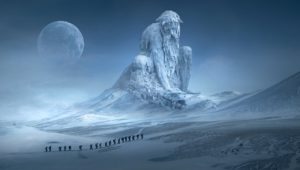 As readers, we all love language and story, and when I run across something particularly profound, or gut-wrenching, world-changing, or just plain unexpected and funny I always capture them for easy reference later. This is one thing I love about the Kindle, it's so easy to mark my favorite fantasy quotes and to share them, too. I've collected an impressive number of these over the years. Here is a selection, from books I've read somewhat recently.
"People can do terrible things when they feel safe and powerful."
~ The Long Way to a Small, Angry Planet, by Becky Chambers
Get Across the Darkling Free!
"Of course, you couldn't stab a stranger in the heart with one of their fence boards, but they sure looked nice."
~ Wake of Vultures, by Lila Bowen
"If Spells could be cast by pure drama of gesture, she would have been a veritable sorceress."
~ Sorcerer to the Crown, by Zen Cho
"The things we hold in reverence reflect our nature," said Fren. "Warlike people worship jealous gods and build their altars of steel. Those who love wealth build their altars of gold. Content people build their altars of love."
~ The Summer Dragon, by Todd Lockwood
"You know… no matter what you do, people are going to expect you to be someone you're not. But if you're clever and lucky and work your butt off, then you get to be surrounded by people who expect you to be the person you wish you were."
~ All the Birds in the Sky, by Jane Anders
"We lived, as usual, by ignoring. Ignoring isn't the same as ignorance, you have to work at it."
~ The Handmaids Tale, by Margaret Atwood
"There are some awful things in the world, it's true, but there are also some great books."
~ Among Others, by Jo Walton
"Let's start with the end of the world, why don't we?"
~The Fifth Season, by N.K. Jemisin
"I am tired of denying myself what I want for fear of breaking things I cannot fix."
~The Night Circus, by Erin Morgenstern
"We die a little every day and by degrees we're reborn into different men, older men in the same clothes, with the same scars."
~ Mark Lawrence, King of Thorns
What are some of your favorite fantasy quotes? Please, share them in the comments below.
k.