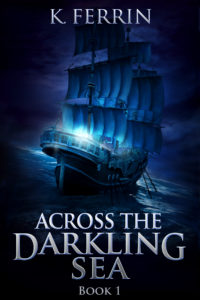 Wow, what a start to the April celebration of indie authors! Only four days in but my reading list is already piling up! Thank you so much for joining us. I might be biased, but I think Indie authors are driving some of the coolest trends around when it comes to fiction. As a rule, they are a group of inspiring and talented authors interested in knowing every angle of the writing business. I knew from the beginning I wanted to go indie, and it is so much fun participating in this dynamic community.
If you want to start at the beginning (and I know you do) check out Zach's post from April 1st. You can follow the chain from there! There are also a TON of other festivities this month, so don't forget to check out our Facebook page for information on giveaways, read alongs and other cool book related geekery.
Get Across the Darkling Free!
As for me, I like it weird. I'm a sucker for monsters, stories about bizarre folklore and superstitions, and the strange sorts of creatures born from the darker aspects of the human psyche. I write fantasy, but I often pull from folklore in my writing. I've discovered over the years that truth often is far stranger than anything you encounter in fiction. I've got an impressive book collection on the occult.
You can find some of my writings on these topics here on this blog. As a sampling, you can find stories about the Malleus Maleficarum (talk about some dark and scary stuff, all non-fiction), or horrifying stories about people's belief in fairies and changeling's that I dug up while researching changelings for my current series of books (more on this topic below). I've got all sorts of monsters over here, such as the the Naga dragons of Cambodia or the Native American Paisa. And of course, I'm a geek, so there's plenty of geekery to be had here.
I also love pie. This might be the most important thing about me.
What else… I am a beekeeper. I've got two hives in my backyard, and when I go out to work on them I wear the full beekeeping outfit. I always feel like quite the fashion star while doing this. I've got a pretty large garden where I grow about every sort of fruit or vegetable that will grow here in Colorado, and I pickle it and preserve it all through summer. And I travel quite a bit. I've been to well over twenty countries. Also, I've eaten maggots. That's a thing you now know. (Also, I feel compelled to inform you that I will not do it again. Except maybe in the event of a zombie apocalypse.)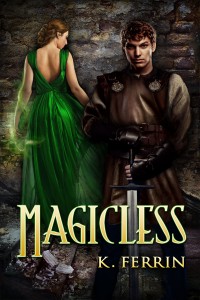 And of course, I'm also a fantasy writer. I spin magic into words, the way Rumpelstiltskin weaves straw into gold, and let them free in the world in the hopes of entertaining some of you fine folks. I have two books out now. The first, Magicless, is a stand alone YA fantasy novel. Across the Darkling Sea is the first in a new series I'm writing, the second book (A Dying Land) will be available in June of this year. I can't share the cover with you yet, but I will be sharing it with my newsletter subscribers next week so sign up if you are interested. I'm also looking for advanced reviewers for A Dying Land. If you are interested in getting an advanced copy to review, please shoot me an email and let me know.
So now you know a little bit about me. What about you? I'd love to hear some interesting tidbits about all of you, leave a little something in the comments if you would. Tomorrow, hop on over to www.jpcawood.com for some Love From Mars, as well as some other stories.
Happy Reading,
K.