Once you've come up with a few options for your website name (domain), you need to find a registrar to register it with. Essentially, you are leasing the domain name. To ensure that domain remains unique, it must be publicly registered in your name. This is what a registrar does. It links your name to a specific domain name, allowing you to "own" that space as long as you maintain the lease. The price for this will vary depending on the company you choose, but it is typically less than $10 per year.
You also need to decide who to host your website with. Basically, this means you are buying space on a server in some datacenter somewhere. This is where you save all the files relating to your website and where Internet user traffic hits when they pull up your site. Hosting prices vary as well, but you should be able to host your site for less than $10 per month. A quick word of warning: you typically pay for a year all up front on this, meaning they typically do not offer a month-to-month option. This caught me unawares with my first website. Fortunately I had enough cash in the bank to cover it! You can also find multi-year deals and/or a lower price for a longer contract (similar to cell phones), but keep in mind that you're probably still going to need to pay for the entire package up front.
You do not have to register your domain and host your website with the same company (hosting simply refers to who owns the server your website "lives" on), but I do recommend you do so for simplicity's sake. Registering with one company and hosting with another requires some additional steps that can be confusing for a novice.
I use Bluehost as registrar and host for every one of my websites (I have a small addiction to websites). They are an excellent company to start with, are inexpensive, and have hands down the best help desk I've ever worked with. Some other top-rated hosting companies include Dreamhost, Hostgator, and A Small Orange. Make sure you sign up with a reputable hosting company. When you run into a problem and need some help, it's worth every penny to have reliable and competent help at the tip of your fingers (or on the phone). 
Okay, let's get down to business. To register your domain, pull up the website of the business you would like to register and host with. For this example I will use Bluehost, but the process will be very similar regardless of the company you choose. Select the hosting option on their website. Note that some companies will have hosting options such as shared, VPS, or dedicated. Unless you expect your website to pull incredible traffic, you will not need anything other than shared. 

Select the service package you'd like. The entry-level option is likely sufficient for your needs, but choose what you feel best suits your goals for your site.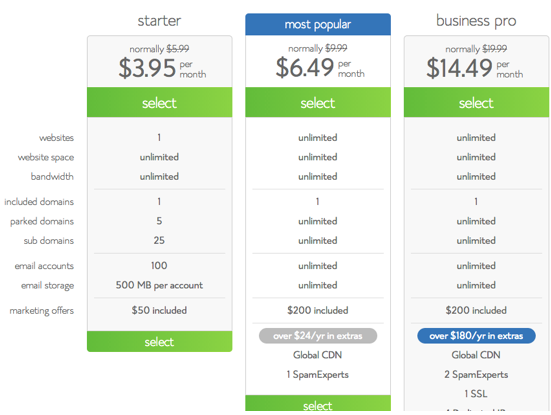 Once you've selected the package, you will be presented with a screen that looks similar to what I've shown below. Enter in the domain name you most prefer from your brainstormed list and select the next button to see if it is available. I used the domain bestbookever.com for the example below.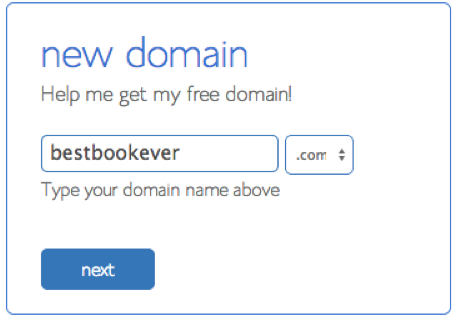 If it is available for registration, you'll get an image similar to this:

If it's not available, they typically provide a list of potential names that are available that you might like. You may find something that appeals to you in this list. I have personally not found them to be all that useful, so remember to have your list of alternatives handy.

Once you've selected your domain name, finish filling out the requested information for your hosting package and pay! You are now the proud owner of your very own domain name.
Well, sort of. You don't actually own the domain name, as you recall. You are essentially leasing it. You will have to renew your lease annually, and I strongly recommend you set it up so this happens automatically through your domain registrar. If you forget to renew it then the domain name will go back into the pool, and there are folks out there who watch for this to happen and then snatch them up. You might be able to get it back by purchasing it from the new owner, but you'll likely pay a pretty penny for it. Setting your domain renewals to happen automatically protects you from what could turn into a major hassle.
One last item of note regarding your privacy as the website owner: the owner information for every website is stored in a public database, called whois. This information is available to anyone who wishes to look for it. Many hosting companies offer domain privacy as an add-on to the service. Bluehost charges an extra $10 per year for this add-on service. With this service, instead of your name and address being logged in this public database, Bluehost's information is logged in its place. This works wonders at keeping marketing companies at bay. It is an additional expense, however, and you must decide if it is worth the price for you.
If you'd like to catch up, you can see the other posts in this series at the following links.
The Importance of a Website to your Author Platform
Why You Need a Self Hosted Website
Naming Your Website