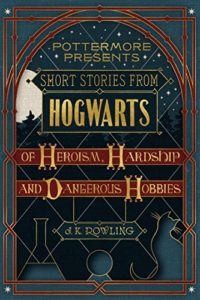 With both Harry Potter and the Cursed Child and Fantastic Beasts firmly on every wannaebe wizard's horizon now is the perfect time to re-immerse ourselves within the world of Harry Potter and there is no better way, at least in my humble muggle opinion, to start with J.K Rowling's recently released short stories of the Harry Potter Universe, Short Stories from Hogwarts.
The release of Harry Potter and the Deathly Hallows in 2007 was certainly a double edged sword for many Potter fanatics. Whilst we finally gained closure on perhaps the one of the most influential and absorbing book franchises of a generation, alongside the overwhelming relief that the Dark Lord was finally vanquished I distinctly remember feeling an odd aura of confusion. No longer was I able to mark out my life alongside each new instalment of the Harry Potter franchise, instead I was left in an odd chasm of an apparently Potterless existence. A terrifying prospect no?
To J.K. Rowling's credit however she has not left us entirely wanting, and through a varying array of Pottermore essays, cryptic tweets and multimillion dollar film and play franchises the world of Potter not only still lives on but is well and truly thriving. But with these examples of grand projects and ideas, I had of late been eager for smaller more detailed snip-bits of the Rowling's wizarding world. Thankfully with her latest instalment into the franchise we find ourselves with a collection of short stories which seem to do just the trick.
Part of a trio of short novels, 'Short Stories from Hogwarts of Heroism, Hardship and Dangerous Hobbies' gives us seven tales focused on the themes of heroism against great menaces, hardship and heartbreak in challenging lives, as well as the wonderful spontaneity of pursuing dangerous hobbies in the wizarding world. Whilst perhaps the die hard among us will find little new info within the pages of 'Heroism, Hardship and Dangerous Hobbies', for the majority the chance to revisit the lives of the major characters of Minerva McGonagall and Remus Lupin (never forget) will be most welcome. Meanwhile the added knowledge of Professor Trelawney and Silvanus Kettleburn (if you remember who he is feel free to give yourself a deserved pat on the back) will be very much welcomed for those who thrive on the more consuming the more niche aspects and knowledge of Harry Potter.
Content wise, out of all of the stories here McGonagall's and Lupin's are, perhaps unsurprisingly, the most engaging, enlightening and heart wrenching. For the sake of spoilers I won't indulge you too much with the details, just come prepared with a tissue and a chocolate frog for good measure. There's some heavy stuff in there…
On the other hand Kettleburn's and Trelawney's chapters are in contrast lighter hearted. In the case of Kettleburn, who was of course was the Care of Magical Creatures Professor prior to Hagrid because everyone definitely remembers that…, his chapter is very much a more tongue in cheek appraisal of this very minor character in the Harry Potter World and provides a good hearty chuckle or two along the way to boot.
Out of the four I found Trelawney's to be the least enjoyable, but still informative. If I'm honest I mostly put my dislike, if that's even the right word for it, down to how well Emma Thompson's excellent portrayal of Trelawney developed a great dislike of the character in my head. The writing was still as engaging as McGonagall's, Lupin's and Kettleburn's chapter's so if you are eager to learn more about Divination you'll enjoy her segment to. I just seemingly have not yet removed her shrill shrieks of 'The Grim!' from my subconscious yet…
Out of everything on offer in 'Heroism, Hardship and Dangerous Hobbies' however my favourite additions are the incredibly informing essays of Rowling's own thoughts which are scattered throughout the book. These essays which grant the reader compelling insight into Rowling's own interpretations of her characters and the world they inhabit are an invaluably rare resource for a writer of such a widely popular franchise, and provide a chance for the reader to see characters they have known all their lives in entirely new light.
For critique some sections do feel a little too short, even for a short story, whilst most of these chapters are also available on Pottermore. However the way these stories have been edited and connected together really do make for a marvellous and charming read, and at such a low price (£1.99, $2.99, €2.99) I cannot recommend Short Stories from Hogwarts enough to anyone eager to learn more about the wizarding world of Harry Potter.
Jack Hunsley is a keen reader in his early twenties from the north of England. His aim is to read anything and everything he can get my hands on, but fantasy novels seem to be his forte as of late, and he still prefers a good old fashioned hardback book to anything else.