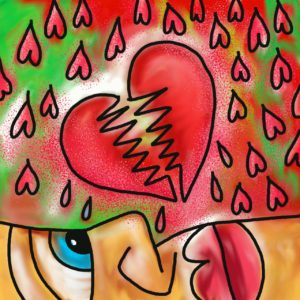 Yes, yes, I know, it's Valentine's day. A day to celebrate love and romance and everything involving unicorns and rainbows. Regardless, I'm celebrating with a nod toward those books that broke my heart, brought tears to my eyes, and left a permanent imprint on my heart for that. Here are ten of the most heartbreaking quotes in fantasy.
"Every atom of me and every atom of you…We'll live in birds and flowers and dragonflies and pine trees and in clouds and in those little specks of light you see floating in sunbeams…And when they use our atoms to make new lives, they won't just be able to take one, they'll have to take two, one of you and one of me, we'll be joined so tight…"
~Philip Pullman, The Amber Spyglass
"You know nothing, Jon Snow," she sighed, dying.
~ George R.R. Martin, A Storm of Swords
"You have a stone in your heart, and some days it's so heavy there is nothing to be done. "
~ Patrick Rothfuss, The Wise Man's Fear
"I wished for her."
~ Erin Morgenstern, The Night Circus
"Of all the unicorns in the world, she is the only one who knows what regret is – and love." ~ Peter S. Beagle, The Last Unicorn
"He can sleep anywhere, Jace had said, and he almost looked as if he were sleeping now, in his father's lap, but Clary knew he wasn't."
~ Cassandra Clare, City of Glass
"I can feel his presence here in every stone he has touched, every person he has lifted up, every street and alley and city that he has changed in the few years of his life, because he is the Republic, he is our light, and I love you, I love you, until the day we meet again I will hold you in my heart and protect you there, grieving what we never had, cherishing what we did."
~ Marie Lu, Champion
"It was the patient, cut-flower sound of a man who is waiting to die."
~ Patrick Rothfuss, The Name of the Wind
"Always."
~ J.K. Rowling, Harry Potter and the Deathly Hallows
All my tales are true, drawn from life, and a life story is not a tidy thing. It is a half-tamed horse that you seize on the run and ride with knees and teeth clenched, and then you regretfully slip off as gently and safely as you can, always wondering if you could have gone a few metres more.
~ Redemption in Indigo, by Karen Lord
What do you feel are the most heartbreaking quotes in fantasy? Add them to this list in the comments below.
Happy reading,
k.