Books are hands down my favorite thing. I like looking at them, touching them, smelling them, and of course, most importantly, reading them. I do a good bit of my reading before I go to bed at night, so reading lights are essential. Of course, it must be fantastical, or what's the point, really?
Here are a few of my favorite fantastical reading lights. Though, reading may be tough without a little extra lighting for some of these. But hey, form over function, right?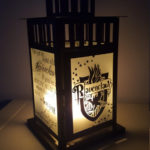 I love this Ravenclaw reading light from StorybookCraftGroup on Etsy. Ravenclaw is my alma mater, so I was quite please to find this out in Etsy-Land. This one is their medium sized lantern, but they also have a large version.
You can get the other houses, but… why would you?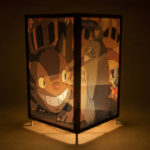 I sprayed geek love all over this Totoro light from LightGuild, also on Etsy. I'm a huge Miyazaki fan (I mean, who isn't?), and while Princess Mononoke is hands down my fave, I love love love Totoro. This would go quite nicely in my fantasy reading nook.
I love the idea of creating a lamp out of a stack of old books. I also simultaneously cringe about it. This one here is from HGTV, but of course I'd want it to be made from all seven Harry Potter books, or maybe Lord of the Rings with a bit of The Hobbit on top. But I have to admit it's a bit hard for me to consider defacing such beautiful objects – even if they are mass produced paperbacks! Still, this has to be on my list for book nook lighting.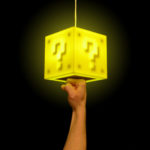 No list of geeky lighting options would be complete without a bit of Super Mario Bros. This one is by 8BitLit on Etsy. It's not book related, but you can't deny the compelling nature of the story itself. Yes, it was cliche (save Princess Peach!), but it was also the best video game of its day. Maybe it still is the best, for what it is. Regardless, I love it hard. The fact you have to 'punch' this to light it up makes my day.

I absolutely adore this paper mache mushroom light from BostonePaperMache on Easy. It's got a sophisticated feel to it, and the soft frayed paper edges give it a beautiful finish. It looks downright magical in these images. My finger is itching on that buy now button.
What are your favorite fantastical reading (or somewhat readable by) lights? I'd love to see your links below.
Happy reading,
k